EBQM Research Log 2
Diary of a Marie Skłodowska-Curie Research Fellow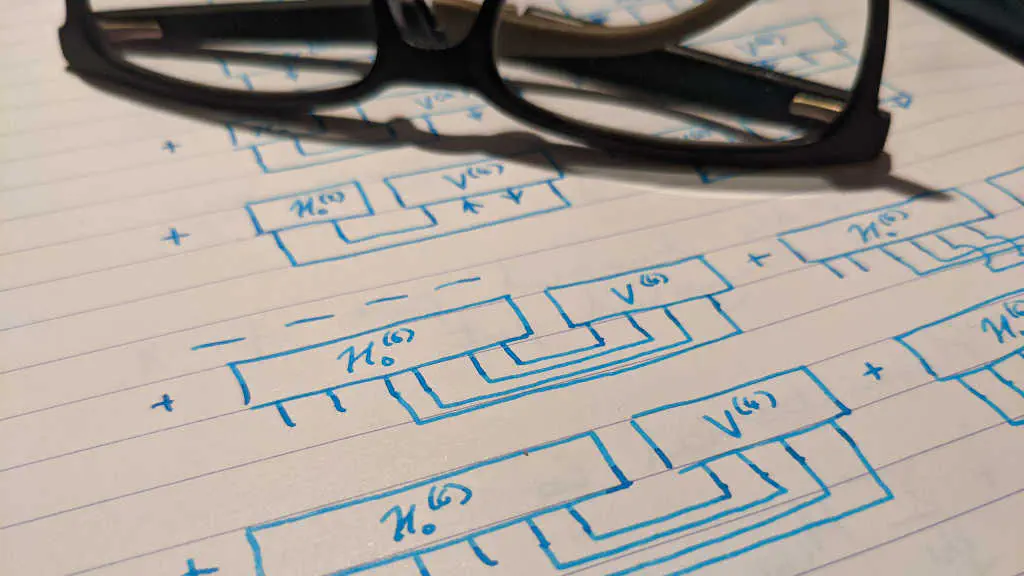 Diary of a Marie Skłodowska-Curie Research Fellow: Entry #2
Hello, and welcome to the second post in this series of Research Logs for the Marie Skłodowska-Curie project 'Ergodicity Breaking in Quantum Matter' (ebqm.info). You can find the first post here.
At the time of writing this, it's the Christmas holidays, which provides a good time for reflection. 2021 has been a bit of a year for everyone, hasn't it? Personally, it's been a year of major change for me. Early in the year, around February, while I was still living in Paris I found out I was awarded the Marie Skłodowska-Curie Individual Fellowship that I'm now on, and it's hard to understate what a pivotal moment this was for me, both in terms of my career and life in general, as it meant leaving Paris after 5 years, a city I'd grown to love. In exchange, the fellowship meant an unmissable opportunity to join an incredibly exciting group and live in a vibrant, new (to me) European capital, and so far things here have been wonderful. While the move here was complicated by both Brexit and the ongoing pandemic, I still feel incredibly excited to be here.
On the research side, it's been a month of mixed results. Last month I spoke about having to develop and implement a series of complex additions to my main theoretical method, known as 'non-perturbative corrections'. After taking quite some time to code these, test them thoroughly and track down all the bugs, the net result of all this effort has been…almost nothing! For the problems I'm working on, these correction terms turn out to do very little, and don't lead to the kind of dramatic accuracy increase that I'd hoped to see. I still have some tricks up my sleeve for turning this work into something useful, but for the time being I'm quietly shelving this aspect as for my current project it's not worth the time and effort right now that it's going to take in order to see a meagre (or even totally negligible) accuracy increase. I'll pick this back up in the future, as I'd quite like to release the codebase for this method in a polished form with as many features as possible. (Look out for this sometime in late 2022 or early 2023 - this is still in the planning stage, rather than being anywhere near release-ready.)
Instead, I've changed tack slightly and started to look into some alternate models and methods to investigate the physics that I'm interested in, namely the breakdown of many-body localization. One aspect of this project, based on my initial approach which works well for weakly-interacting quantum systems, is working well and approaching a 'finished' state. The new aspect of this project, studying many-body localization in strongly-interacting quantum systems, progressed very well but unfortunately in mid-December, a preprint appeared on arXiv which studied a very similar problem using a very different set of methods. This work reached some remarkable conclusions, and partially scooped my work, although it also helped me to locate and fix a few parts of my method which were causing avoidable problems. Overall, the appearance of this new work has both inspired me to pursue a slightly different approach and motivated me to wrap this work up as soon as possible, as it seems to be a hot topic and I don't want any further aspects of it to be scooped! Ironically, despite losing some ground and pouring a lot of time into aspects that I'm abandoning for now, these false starts have pointed the way to something that I think is truly innovative, something I would not have thought of otherwise, and something that could be a very fruitful new way to study quantum many-body systems in the future. If, that is, I get it to work the way I envisage it!
Aside from my main project, I've also reviewed several papers this month and had the continued pleasure to be working with some amazing colleagues (both here in Berlin and elsewhere) and we've got a range of very interesting projects in the pipeline that I can't talk about yet - for more on other projects I'm involved in, watch this space!
But there's more to science than just writing papers, so I've also been talking to a number of people about some very exciting alternative projects (currently being pursued in my copious spare time!) involving the use of computer games to teach/illustrate physics concepts, reviving my rather neglected popular science blog to test the waters for whether it could be worth one day pitching a popular science book on condensed matter physics, and I've been thinking a lot about trying to organise a conference for early-career researchers in condensed matter physics, as the pandemic has robbed a lot of graduate students and other early-career researchers of the opportunity to network with peers and practice giving research presentations in a relatively laid-back, low-pressure environment. I'm not sure if anything will come of this, but fingers crossed I can figure out a way to put something together - I'll keep you updated on all of these projects in the months to come!
So, while I may not have a lot of concrete things to show for all the work I've been doing in the last month or so, rest assured I have a lot of plates spinning and a lot of things to come in the year ahead. For everyone out there reading this post close to the time of writing, I hope you have a happy new year and wish you all the best for 2022!