EBQM Research Log 6
Diary of a Marie Skłodowska-Curie Research Fellow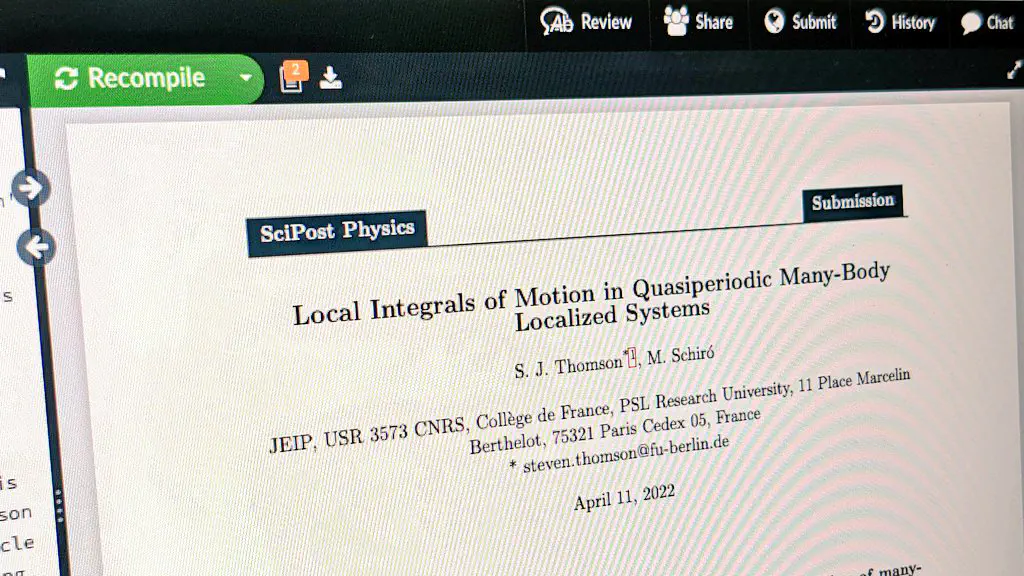 Diary of a Marie Skłodowska-Curie Research Fellow: Entry #6
Hello, and welcome to the sixth post in this series of Research Logs for the Marie Skłodowska-Curie project 'Ergodicity Breaking in Quantum Matter' (ebqm.info). You can find the first post here.
Whew, another month down! I'm now 8 months into a 24-month fellowship, so that's 1/3rd of my time here in Berlin gone already. It's amazing how fast the time has gone, and slightly scary how fast the end of my time here is approaching already. It's still 16 months away, but at this rate that's going to arrive before I'm ready for it!
This has been one of the busiest months I've ever had, which is part of the reason why this blog post is a week later than normal. I mentioned last month that I'd had a bit of success in some projects, and so this month has mostly been about shoring up these findings and putting together some draft papers. I just finished the first and most major of these last week, so in the week ahead (while I'm still waiting for final data from our cluster…) I'll send the draft paper around the group for feedback. The other papers are progressing nicely as well, but they're not in such an advanced state, but hopefully I'll be able to release several of them (plus v2 of a paper from last year that's awaiting a response to reviewers) before the summer, and then I might be free to take my first summer holiday in 2 years (and first visit back to Scotland since 2019) without having these half-complete projects hanging over my head.
The current plan is to release these papers and make the associated PyFlow code library publicly available on GitHub at around the same time. It won't be in a finished state, as it's missing a lot of documentation and the API isn't particularly well-developed, but I think it's good to get it out there at the same time as the papers so interested parties can experiment a bit with the method and maybe provide some feedback about how it should evolve in the near future. One serious lesson that I've learned over the last year or so is that it's not always necessary to do everything myself, and that working with others is the best way to realise the full potential of a project. This is a lesson I've been too slow to learn, but the flipside is that while working mostly alone or in small groups may not be as productive as working in large collaborations, it does mean I've learned a lot about every aspect of every work I've ever been involved with.
One other thing I've been reflecting on a lot recently is the direction of my research, and this is something that for the first time in a long time I'm starting to doubt. I'm currently in an environment where a lot of the focus is on quantum computing, which is not a major interest of mine, and somehow I've also ended up being heavily involved in numerical simulations which has led to my current research mostly being handicapped by a lack of computational resources, as well as a lot of long waits for code to run. I'm not sure that this is something I want to lean in to any further in the future, and I'm not certain that the quantum technology/information route is one I want to go down any further, so after I've fulfilled my obligations under the MSCA grant for the EBQM project, I'm not sure any more what direction I want my work to go in, or whether academia is even the right route forward. Once I've got the current crop of papers out and have a bit of time for a summer break, hopefully I'll be able to dig into this a bit more and figure out where my future lies. Maybe I'm just having a bad day at the time of writing, but I'm feeling like I'd like to steer back into fundamental condensed matter research rather than the computational and technological work that I seem to be involved in at the moment. Having made many (too many…) topic changes already in my career, I'm a little afraid that to do so again would finally be the death knell to my career in academia, but I'm also not going to continue working this hard on topics I'm losing interest in, so something's got to give!
And on the topic of conducting research in different fields, last month I mentioned that I'd been accepted into the European cohort of the European Crucible 2022, a skills and leadership training course based in Scotland designed to foster international and interdisciplinary collaborations. We've now finished 3 of the 4 labs and it's been a really interesting course so far, with input from some big names in science, policy and journalism. At the moment the participants are banding together in small groups to propose innovative interdisciplinary projects, with an eye towards applying for a small pot of seed funding to turn these ideas into real-world projects, and I'm super excited to see whether our proposal will turn into something that we'll be able to take forward to this stage. This has been a real eye-opener and it's been fascinating to break out of my quantum physics bubble and see what others are doing - perhaps seeing so many other interesting projects is why I'm feeling a bit disillusioned this month with my own work, but overall the Crucible has been a very positive and affirming experience and I'd definitely encourage others to apply in future years.
Right, that's all from me for this month - it's a lovely sunny day and I'm off to sit outside for a bit and stop thinking about physics for an afternoon. Catch you back here next month for update 7!